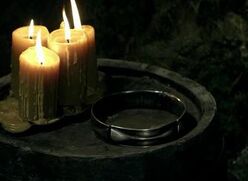 A Rada'Han is a magical collar that, when placed around the neck of a person with the Gift, disrupts their connection to their magic, rendering their powers useless. The Rada'Han was a collar that could only be removed by unlocking the front with the matching key. Richard Cypher once wore a Rada'Han when he was about to leave the Palace of The Prophets, but he was stopped by the Prelate. The same Rada'Han was then used to subdue Nicci's power, although with the help of her fellow Sisters of The Dark and The Keeper, she managed to escape the Rada'Han and the Palace.
Capability
Edit
The Rada'Han suppresses the wearer's Han and prevents the wearer from using any form of magic, rendering them powerless. It also stops any form of curses on the wearer from occurring, as well as prevents Confessors from using their powers.
References
Edit
Community content is available under
CC-BY-SA
unless otherwise noted.