Dark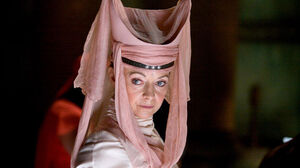 | | | |
| --- | --- | --- |
| Episode No. |   | Season |
| 31 | 2x09 | Two |
Original air date
23 January 2010
Chronological Information
Richard is taught by the sisters of the light to use his wizard power; Zedd must name a new seeker when Sister Nicci reveals a shocking secret.
Plot Introduction
Edit
As the Sisters of the Light train Richard to use his wizard power, the mysterious Sister Nicci informs him that the Sisters intend to keep him trapped in the Palace to prevent him from delivering the stone of tears into the keeper's hands. He resolves to escape from the Palace and enters into a dubious alliance with Sister Nicci, allowing her to take his Han into herself. But before doing so, Richard finds out Sister Nicci is a Sister of the Dark, a servant to the Keeper. After giving Sister Nicci his Han, Richard directs a Sister of the Light to capture Sister Nicci while Richard escapes. A new prophecy appears on the Palace walls that says "As long as the Mother Confessor's pure heart beats, the Keeper is doomed to fail." Elsewhere, Shota the witch woman reveals to Zedd a new possible choice for a new Seeker in Richard's absence. Zedd,Kahlan, and Cara find and name Leo, a blacksmith, as the new Seeker.
Guest Starring:
Edit
Community content is available under
CC-BY-SA
unless otherwise noted.